Some of Vivienne Westwood and Malcolm McLaren's early fashion designs will go under the hammer at Bonham's auctioneers on July 18.
The items are from the collection of Mark Jay who was a founding editor of the punk fanzine Skum. The punk pair of Sex Pistols manager McLaren and fashion designer Westwood noticed Jay's artwork for the publication and commissioned him to design a poster entitled 'The Story So Far' to promote the Pistols' debut LP.
"Growing up in Hammersmith, west London in the mid-1960s, Mark had watched immaculately-attired Mods parading along the streets, wishing he was old enough to be part of whatever they were getting up to," said Bonhams.
"Eventually, it was David Bowie who provided Mark with a portal into a youth culture that he could finally call his own. Totally smitten since the incarnation of Ziggy Stardust, Mark had followed Bowie's every move, and at Wembley in May 1976, Mark witnessed the first flowerings of embryonic 'spike-tops' who were soon to become some of the major players on the Punk scene. Although this gig was perhaps one of the finest moments in Bowie's career, Mark was as equally mesmerised by a certain core of the audience, as by the Thin White Duke himself."
"The collection represents a very personal record of an extraordinary and incendiary eighteen months from mid-1976 to early 1978 when Punk Rock exploded across the UK music scene. Mark's involvement in the movement came very early – before the notorious Bill Grundy interview with the Sex Pistols, before any of the groups had record contracts and before the movement even had a proper name."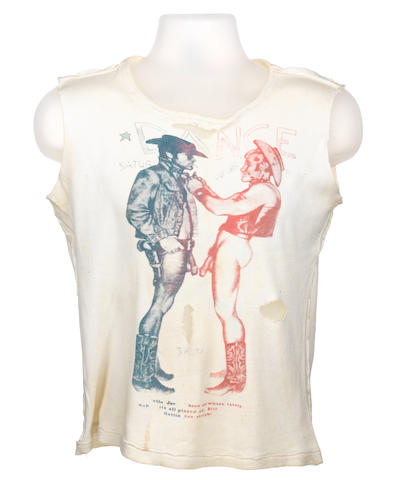 The 14-year-old Jay discovered the punk fanzine Sniffin Glue at a Sex Pistols concert and decided with a few like-minded schoolmates to spread the punk message with their own publication. The result was Skum as part of the very first wave of fanzines in the UK.  The pre-Pistols Sid Vicious gave his first ever interviewto the magazine and editions would feature reviews of The Clash by a pre-Spandau Ballet Gary Kemp.
In June 1977 Mark was one of the few fans lucky enough to attend the Sex Pistols' legendary 'Boat Party' concert on Jubilee Day, an invitation that was part-payment for the production of a poster he was commissioned to produce by Macolm McLaren and Vivienne Westwood.  It is thought this collaboration that led to his collection of iconic pieces now on sale.
Jay totally immersed himself in punk, which included its own creative economy. "As with some other items in the collection, the fanzine collection offered here was amassed through a barter system, whereby people exchanged copies of their work along with information and ideas," said Bonhams.
View the full catalogue here.