Victorian dresses offer a huge choice of styles for retro lovers, Steampunks and fashionistas alike. That's not surprising considering Victoria ruled for 64 years with many changes of Victorian fashion taking place in that time.
Where to buy Victorian dresses:
Modern Victorian Style Dresses
While original pieces are undeniably beautiful, they are obviously expensive and very fragile. Most belong more in museums and archives than wardrobes. Thankfully there are plenty of ways to craft your own Victorian look with reproduction Victorian inspired dresses.
A good variety of Victorian costumes can be found mass-produced – meaning more people can enjoy them for a low price.
However, it is also perfectly possible to have a luxurious Victorian dress handmade for you. While these may seem expensive compared to their factory counterparts, they are actually only in the middle-range of normal high-street fashion prices. What you receive instead is a breathtaking garment crafted by an artisan with immense skill, creativity and experience. These will always resemble the tailored silk garments of the 19th Century more than a factory-made polyester garment can ever hope to.
Premier Victorian
Premier Victorian offer some of the best Victorian dress designs on the market. They cover everything from a Victorian blouse to belt sashes and bonnets so you can choose the elements that suit you best.
Victorian Choice
Victorian Choice offer a huge range of Victorian dresses in their shop, from more historically-accurate to fantastical Steampunk dresses. For the Victorian enthusiast on a budget they certainly capture the right look of the era across a variety of styles.
We love this striped Gothic Victorian dress that resembles something a Tim Burton star would wear.
Gothic Victorian Dresses
Gothic Victorian clothing has always had a place in the goth scene. At the annual Leipzig Wave Gottik Treffen festival one of the top events besides seeing internationally-renowned goth bands is a Victorian picnic. This later expanded to a "Victorian Village" event that is held in the grounds of a nearby stately home. Both proudly display the most incredible costumes from Victorian gothic costume enthusiasts around the world.
Here are just some of the brands that make gothic Victorian dresses good enough for a night in front of a smoke machine or an afternoon promenading on the lawn.
From vampiric aristocrats to Steampunk wenches, DressArtMystery offers a spectacular array of garments made to order. While many of her designs are more fantastical than historical, she has the technical ability to craft them with great attention to detail. This is after all Victorian Gothic where visual splendour can roam free from boundaries.
AliceCorsets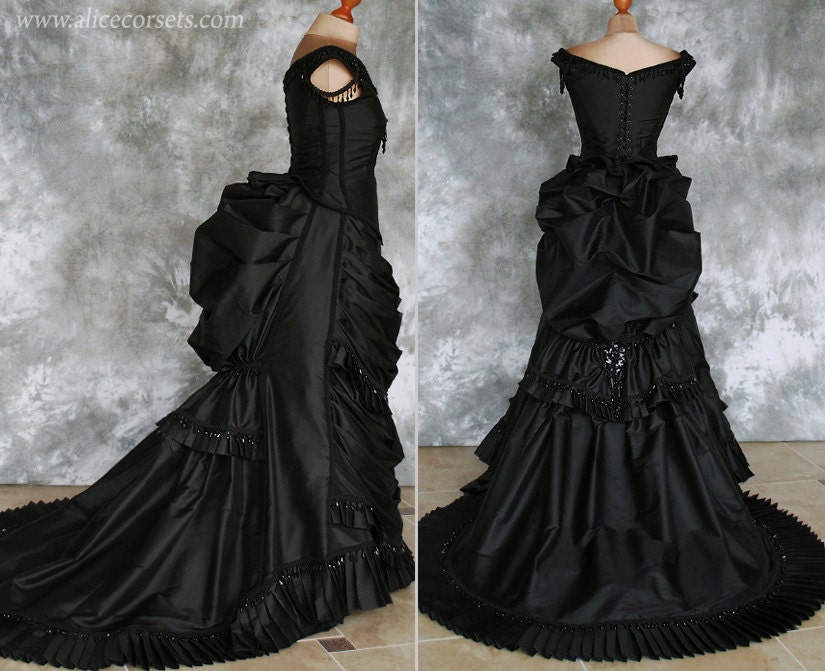 AliceCorsets is a world-renowned couturier of gothic clothing. Her work was recently featured on the catwalk of Danza Luna, a dark romantic gothic ball at the Ghent Opera in Belgium similar in style to the Leipzig Victorian Village.
As her work is couture she is generally booked up several months in advance as she uses such a high standard of craftsmanship to create mezmerising garments.
While she specializes in corsetry she does many beautiful Victorian gothic skirts and bodices. She is also incredibly versatile in her approach as demonstrated by the range of designs on offer and so can take on private commissions with time.
Fiorentina Costuming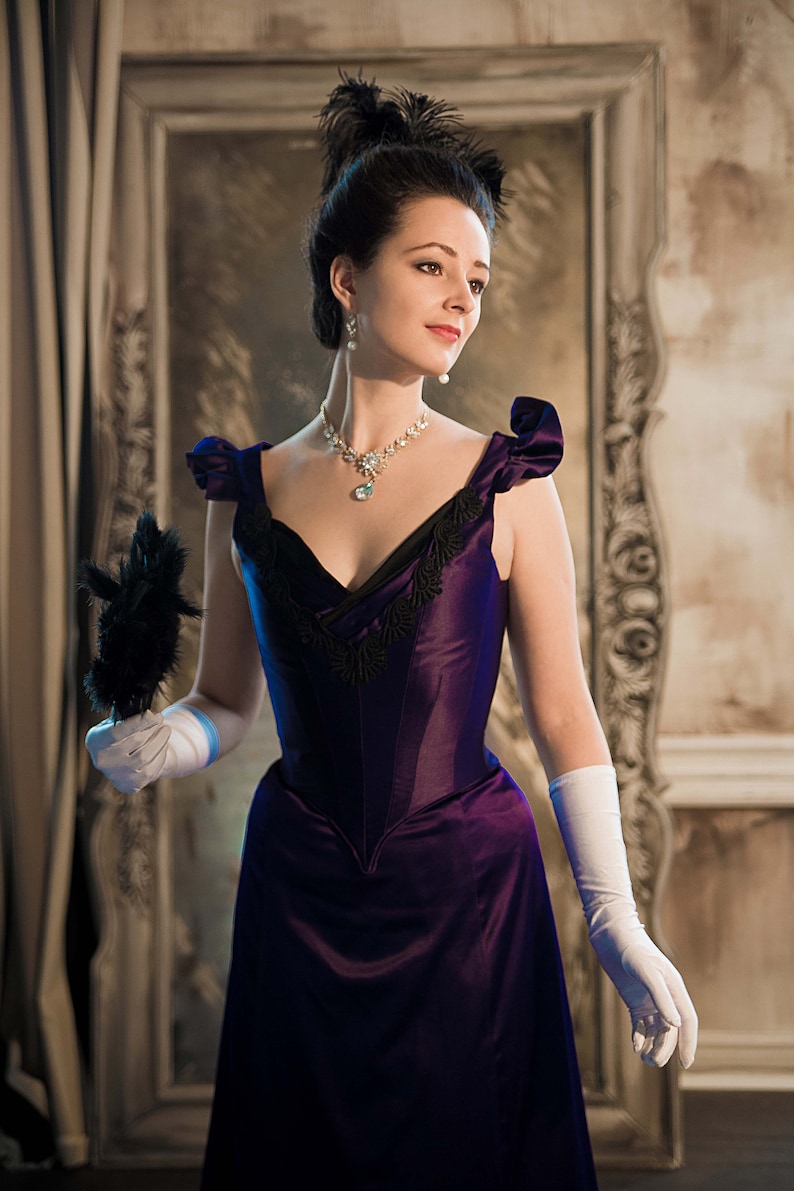 Much like AliceCorsets, Fiorentina Costuming is an exceptional dressmaker from Ukraine. Her Victorian dresses are exceptionally high quality and made in a historical fashion. She offers designs based on individual decades as well as period-inspired dramas like Crimson Peak and Penny Dreadful.
Belle Poque is more of a Steampunk costume supplier but we love their Victorian skirts.
Graceheart Victorian Dresses
Graceheart is another brand that seems rather synthetic and mass-produced and yet still produces great looking garments. They may not be the finest quality around but you can certainly get a convincing outfit for a reasonable price
History of Victorian Dresses
When searching for victorian style dresses you may want to consider exactly what period you have in mind. If you're looking for modern Victorian style dresses then the chances are you're more after the later period when things were a bit sleeker compared to the billowing sleeves and skirts of the earlier period.
The 1820s and 30s period of William III were a strange hangover from the Regency we often forget about – perhaps with good reason.
1830s Early Victorian Dress
1870s Victorian Dress
This is probably the era of Victorian dresses we prefer with images of Mary Poppins' costume and period dramas like Penny Dreadful. This era is certainly more what we associate with Steampunk costume.
Fortunately this was a classic era for many of us and so many modern Victorian style dresses are based on this period.