Heavy metal is generally thought to be anything but dressy. But a few bands towards the extreme end of the metal spectrum have defied the stereotype of denim and corpse paint by opting for more tailored attire.
Akercocke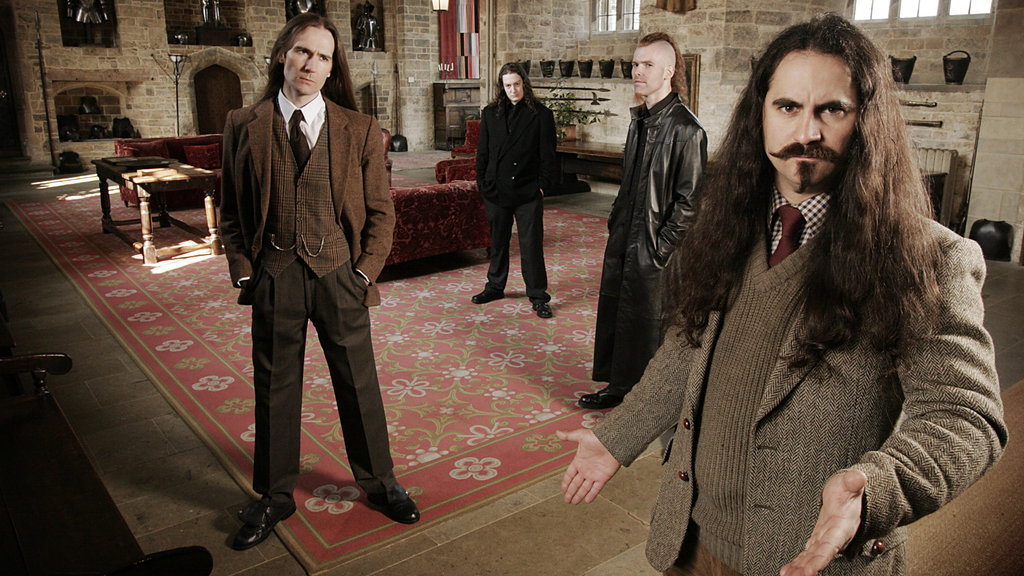 Blackened death metal legends Akerocke reformed last year and have since released a new album "Renaissance In Extremis
". But while their sound remains as thunderous as ever they have now left behind their famous stage look of tweed suits for casual t-shirts and jeans held up by bullet belts. The motivation presumably lies in directing their dedicated audiences towards the music rather than risking being taken for a gimic novelty. But in their 2003 heyday what was being said about the satanists in suits when Team Rock journalist Malcom Dome introduced his interview with "grouse shooting, fine wines and cigars. It's all in a day for sharp-dressed Satanists Akercocke."
"Of course it's a deliberate image, aimed at setting us apart from other bands," said frontman Jason Mendonca in a 2003 interview with Team Rock. "I would never pretend otherwise. But it's one that reflects our personality as a band. And, let's clear one thing up; this is not us taking the piss out of bands who do wear corpse paint. That was never our intention. We respect what they do. Do we get fed up with being called 'Satanists In Suits'? Not at all. It means we've got your attention! Do I see myself as a 'gentleman'? Yes, I do. You see, a 'gentleman' isn't defined by how many times he goes to Savile Row to have a suit made; it's a mindset. And I believe that I have that mindset."
Fleshgod Apocalypse
The Italian symphonic metal band is taking the world by storm in dusty tailcoats and wing collars and starched wing collars. "It's a little bit of theatre, it's about energy, it's about the personality of everyone coming out into one thing, I couldn't describe the theatrical aspect," former bandmember Tommaso Riccardi told Prog-Sphere. "Obviously, there are elements we are introducing that are concrete- we don't do this here (in North America) but all the shows we do in Europe we have a piano, an actual piano on stage. The way we are, the way we dress up, the things we have, it all factors in. We try to do the opera thing- we try to get that across on stage, in the show. There's no moments in the show where things are stopped." Buy their album King
here.
Their music videos have a distinctly Rococo feel set in period interiors with pianos and wailing opera singers.